Get Ready for the Juicy Details! Sex Education Season 4 Release Date September 21,2023:
Sex Education season 4 is releasing on Thursday, September 21, 2023, at  12 AM Pacific  Time(PC),
Hello, fellow Otis Milburn and his gang fans! Today we have some exciting news to share with you. After months of anticipation and speculation, it's finally official: Season 4 of Sex Education will premiere on September 21st, 2023! , again we're in for another wild ride of awkward conversations, hilarious mishaps, and heartwarming moments. What's more, guess what? Because all episodes will be released at once, this season promises to be even more captivating than previous seasons. So get ready to binge-watch and delve into the juicy details that Moordale has in store for us.
by the trailer, you will already know what to expect in the upcoming episodes from Sex Education Season 4.In Season 3 moordale secondary shut down at the end, The majority of the stundents have all moved to other school.  The show has always been known for its daring investigations of teenage sexuality, relationships, and personal growth, and the upcoming season is no different. The characters have evolved in their own unique ways with each instalment, facing challenges both within themselves and within their relationships.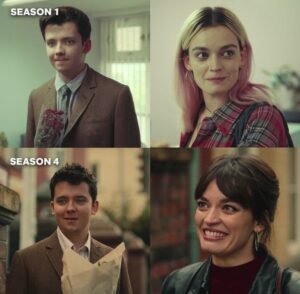 We expect to see more character development from Otis Milburn this time around as he navigates his newfound relationship with Maeve Wiley. Will they finally find happiness together, or will they face unexpected challenges? Meanwhile, Eric Effiong continues to wrestle with his feelings for Adam Groff while exploring his own identity. Can their love truly win overall,
there is some characters missing through, include Olivia ,lily and ola in season 4.
Season 4 also gives our favourite secondary characters a chance to shine. Aimee Gibbs embraces feminism and advocates for change after experiencing harassment; Jean Milburn adjusts to motherhood while continuing her work as a sex therapist—and these are just a few examples!
Consent, mental health, and self-acceptance are still prominent themes in Sex Education. The show's ability to address these complex issues with sensitivity and humor has made it a fan favorite among viewers all over the world.
We can't help but count down the minutes until September 21st, 2023 now that the series is released! As fans eagerly await Season 4, speculation about what awaits our beloved characters abounds. Will there be new students at Moordale? What other subjects will the show cover this time? The options are limitless!.
Why not rewatch your favourite episodes or catch up on any missed moments from previous seasons while you wait for the big day? Relive the hilarious scenes that made you laugh out loud or the heartwarming ones that made you cry.
Season 3 starts with Otis and Ruby friends with benefits. They are casual about their relationship. They keep it secret between. Otis feels uncomfortable about their secret relationship, he wants to date Ruby and know her better but Ruby is against that, after many fights Ruby finally decides to make it public and they did. In Season 2 Otis confessed to Maeve his feelings and Isaac deleted that voicemail without knowing to Maeve. Maeve does not know Otis's confession, Otis thinks Maeve hates him and he distances himself from her. There is a double date between Otis and Ruby and His friend . Otis drops ruby to her house and otis talks with her father. Otis good therapist in terms of talking, he convince a stranger for a died cat.
On the same night Ruby confessed her feelings to Otis, but Otis did not reply to her. Ruby feels embarassed about her feelings. Ruby distance her self from otis. In the mean time their school planned for trip. In the trip at one stop otis and maeve miss the bus, otis tells maeve about voice mail that she does not know, Maeve asks whats on voice mail, otis repeats the voice mail. Maeve accepts otis feelings. 
In the final episode Maeve leaves otis for higher education. Otis waits for her.
Sex Education returns for its fourth season in just a few hours, transporting us back to the world of Moordale Secondary School. We can look forward to fully immersing ourselves in the captivating lives of Otis Milburn and his friends when all episodes premiere on September 21, 2023.
Expect laughter, tears, and thought-provoking storylines that push boundaries while highlighting important issues facing today's teenagers. Expect surprises, character development, and plenty of awkward yet touching moments.
Prepare for a binge-watching binge on September 21st! Until then, let us continue to speculate about what Season 4 has in store for us—after all, half the fun is in the anticipation. Prepare your snacks and get ready for another wild ride through the ups and downs of adolescence. Keep an eye out because Sex Education is back with a vengeance!
In Season 4, I want to see the relationship between Otis and Meave, I have been waiting since Season 1.
from season 1 they were meant to be together but they cannot be together for some issies. 
In the first two Season, they both realised they had feelings for each other but they were not together because they did not confess face to face. Otis confessed through mail and it was deleted by Isaac by jealousy. Finally, they meet in season 3, but Maeve has to go for higher studies in another country. otis waiting for her in season 4 by long-distance relationship. 
Can't wait to see them together.
Fans want a Happy Ending for them, In the End, they have to be together, Otherwise it's not a happy ending.
Stay tuned for a Review of each episode of Sex Education
Sex Education Season 4 Release time zones, Countries and cities :
United States(PT)- 12 : 00 AM
United States(ET)- 03 : 00 AM
Canada – 03 : 00 
Brazil ( Rio De Janiero) – 4 : 00 AM
UK(BST) – 8 : 

00 AM

Europe (CET) – 9 : 00 AM

Europe (EET) – 10 : 00 AM

South Africa – 9 : 00 AM

India – 12 : 30 PM

Indonesia – 02 : 00 PM

Phillippines – 3 : 00 PM

Hong Kong – 3 : 00  PM

Singapore – 3 : 00 PM

Australia – 03 : 00 PM

Japan – 4 : 00 PM

New Zealand – 07 : 00 PM