tale-go , Is there any time to tell and listen to stories? Maybe it would have happened. Or would it not happen. But one thing definitely happens. Tales, stories are interesting to everyone. It is better if they are present on time. If it is not, it is not bad even if it is of the past. Because they always go by not only telling us something, but also by teaching them. Brings back memories of our times. Even after sweetening the dough of spices from serious, they drink it softly. That is why 'Dastaan-Go' has started, the process of bringing interesting stories to your loved ones. Will try to continue this process. Monday to Friday, everyday…
,
everyone remembers, thoroughly. The date of 9 August 1925, when the train was robbed in Kakori town of 'United Provinces of Agra and Oudh', British India. There was government money in the train. It was to be deposited in the government treasury of Lucknow. Therefore, the government had made full security arrangements. But when the train was stopped in Kakori, about 16 km before Lucknow, this arrangement did not work. The security guards kept watching and under the leadership of Pandit Ramprasad Bismil, 10 revolutionaries of India looted the government money laden in the train. The movement for the independence of the country needed money because. Although, money could have been arranged in other ways as well, but one of the motives of the revolutionaries was that the British government should look into them. Be intimidated by their presence. That's why the robbery was carried out.
Everyone remembers again, after that the date of 19th December 1927. The day when Ramprasad Bismil was hanged in Gorakhpur, Ashfaq-ullah Khan in Faizabad and Thakur Roshan Singh in Naini Jail in Allahabad. In the blame of the same 'Kakori incident'. But one name and one date, which remained like a link between these two dates and three names, may have retained a place in the memories of few people till now. Rajendranath Lahiri, the fourth martyr of this 'Kakori Kand', who was hanged in Gonda jail on 17 December 1927. Very few people know that Rajendranath Lahiri was already aboard in the train that was robbed in Kakori. And he stopped the train by pulling the chain at the appointed time and place. So that his companions climb into it and execute the robbery. Rather, it is said that even Lahiri was the mastermind of this robbery.
This same Rajendranath Lahiri was born today i.e. on 29th June. In the year 1901. At that time there was a district in Bengal Presidency, Pabna. Today it is in Bangladesh. Rajendranath was born in a Barhman family in Mohanpur town of the same district. Fighting for the freedom of the country, dying was a family tradition for them. Walid Kshiti Mohan Lahiri was a big landowner. But more than this, he got his name because he was an important rukna (member, pillar) of 'Anushilan Samiti', a tanzeem (organization) of revolutionaries. In this connection, he had to go to jail many times. And even when Rajendranath was only eight-nine years old, his father had to go to jail for this reason. Then mother Basant Kumari sent her to her maternal home in Banaras. So that there they can first complete their education, which Rajendranath did while staying at maternal uncle's house.
But as mentioned earlier, fighting for the freedom of the country, dying was his family tradition. So, in Banaras, when he was still studying MA (History) first year at Banaras Hindu University, he met Shachindranath Sanyal. He was a big leader of 'Anushilan Samiti'. He recognized the desperation of fighting and dying for the country within Rajendranath and joined them together. Made the responsibility-dar (in-charge) of the Mehkama-e-Fauz (Armed Army Department) of the Banarasi branch (Banaras branch) of Tanzeem. Along with this, he was also given the position of editor of the magazine 'Bang Vani'. Now in this capacity, within a few days, Rajendranath joined another armed organization 'Hindustan Republican Association' and started attending its intelligence meetings. This Tanzeem was created by Shachindranath Sanyal in 1924 along with Pandit Ramprasad Bismil.
This was the mechanism in which the members (members) had planned and executed the 'Kakori incident'. It is said that after that exploit, Sanyal sent Rajendranath to Calcutta. So that by staying there, they can arrange firearms (bombs, gunpowder etc.) together with other members of Tanzeem. Rajendranath did this too. After going to Calcutta, he stayed in a house on Sova-Bazar street in Dakshineswar area. Revolutionaries used to move in this house. For this reason, he used to stay under the supervision of the Calcutta Police. It is said that after the 'Kakori incident', the English police had kept an intelligence watch on this house like many other places. Anant Hari Mitra was another great revolutionary then. The police were looking for them and they were being monitored to catch them. With the hope that if they are caught, then a big clue can be found.
The police documents of the time show that on the evening of 6 November (1925), the informer informed the police that Anant Hari had come to that house along with his two other associates. After this the police secretly monitored Anant Hari's every move for the next two-three days. During this it was found that he had kept some suspicious looking items in another house in Dakshineswar area. When the police confirmed all these activities, they raided the house with a search warrant, where the revolutionaries were supposed to be staying. It was the 10th of November. It is said that a young leader Rakhal Chandra Dey opened the door when the police knocked. He tried to mislead the police for some time. So that his companions can be successful in escaping from the paths behind. But he himself could not succeed much in his endeavour.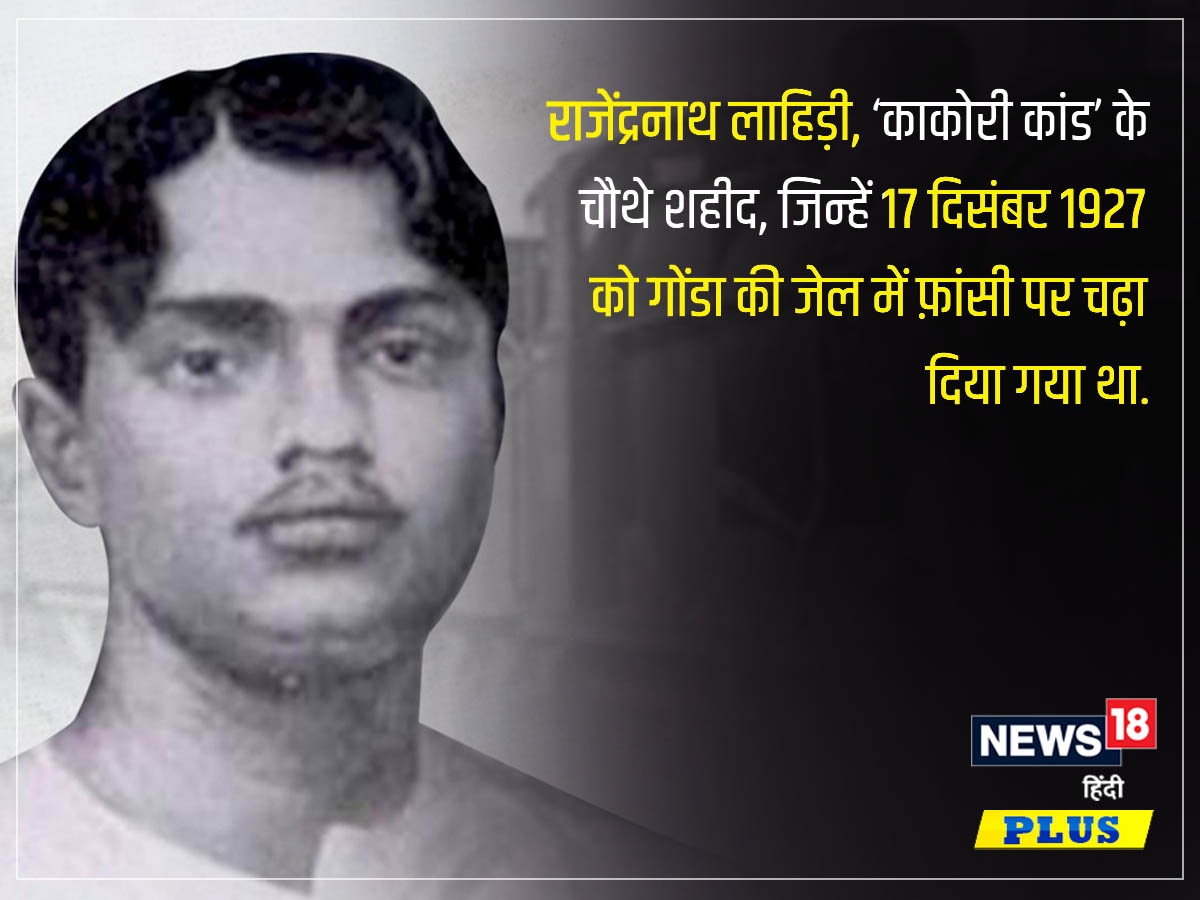 Rajendra Nath Lahiri, Forgotten Martyr of Kakori Case
The police rushed inside and arrested all the people present there. Rajendranath, who was trying to escape from that room itself by the stairs leading to the top floor. It is said that a weapon was also recovered from the room. A live bomb, a loaded revolver, a pistol, etc. Around 11 people were caught. There was a case against them. There were allegations of conspiracy and bomb making against the government. The decision came on the 9th of January, the year 1926. All were convicted under different sections of the law. Three of these people were sentenced to rigorous imprisonment of a little more than 10 years. Rajendranath was also among them. It is said that he was first sent to the Andaman and Nicobar jail to face the punishment. Later he was brought to Lucknow and then to Gonda jail. In date, this case finds a place in the name of 'Dakshineswar bomb case'.
By the way, in this case, an anecdote is also said that while making a bomb in that house, there was an explosion due to someone's negligence. After this Rajendranath was caught. However, in the documents produced by the police related to the investigation, there is no mention of such an explosion in the court. However, by the months of January-February, on this side, the British government had arrested about 40 people related to the 'Kakori incident'. Shachindranath was caught in the month of September and Ashfaq Ullah in December. By now the police had also come to know that Rajendranath was the person who stopped the train by pulling the chain in Kakori. And he was playing an important role in the conspiracy right from the beginning. Therefore, he was also brought from Andaman to the United Provinces of Agra and Oudh. All the cases went on here, whose final decision came on 6 April 1927.
In this case, four people including Rajendranath were sentenced to death. The date fixed for this was 19 December 1927. All the revolutionaries lodged in different jails were to be hanged together on this day. But then the police got secret information that some revolutionaries roaming freely under the leadership of Manmath Nath Gupta had planned to free Rajendranath from jail. The security arrangements in Gonda jail were not very good. Therefore, it was going to be easy for the revolutionaries to carry out the plan here. Therefore, to thwart his plan, the jail officials hanged Rajendranath two days before the scheduled date. It is said that Rajendranath had come out to kiss the noose after doing regular daily rituals. Somebody asked, 'Why so?' So they started saying, 'So that next time I can return again with a healthy body to fight for the freedom of the country.' Such was the attitude of Rajendranath Lahiri.
,
(Some references to this story are taken from the 'Dakshineswar bomb case' verdict in the archives of Indianculture.gov.in and Manmath Nath Gupta's autobiography 'The Lived Dangerously'.)
Be the first to read breaking news in Hindi News18 Hindi | Today's latest news, live news updates, read most reliable Hindi news website News18 Hindi |
Tags: birth anniversary, Hindi news, News18 Hindi Originals
FIRST PUBLISHED : June 29, 2022, 14:28 IST