tale-go , Is there any time to tell and listen to stories? Maybe it would have happened. Or would it not happen. But one thing definitely happens. Tales, stories are interesting to everyone. It is better if they are present on time. If it is not, it is not bad even if it is of the past. Because they always go by not only telling us something, but also by teaching them. Brings back memories of our times. Even after sweetening the dough of spices from serious, they drink it softly. That is why 'Dastaan-Go' has started, the process of bringing interesting stories to your loved ones. Will try to continue this process. Monday to Friday, everyday…
,
Knowing a subject is one thing, sir. For example, a large number of people in the world know that the counting of mathematics starts from one. It ends at 10. But those who have a little knowledge, they start to understand that counting does not actually start with one, but zero means zero. This count ends at nine. If the knowledge increases a little more, then it also comes to know that from zero to nine, a lot more happens in the whole tens. Like- quarter, half, quarter, quarter, one and a half, two and a half and so on. This basic screw of information and knowledge happens like this in all the different subjects (different subjects).
Most of the people are stuck in the middle of basic information because the arrangement of livelihood, clothes, house, show-luxury is done with so much, very comfortably. But there are few who are hungry for knowledge. So they get it with its specifics. And in these too, very selectively behave like science-donors (scientists). They broadly experiment (experiment) on all the nuances that are visible, not heard. Let's try. They confirm that see things happen this way too. And how beautifully they find a place among us. Rahul Deb Burman in Hindustan's film-Musiqi (Music), such science-donations were made.
The world knows that Rahul Deb i.e. RD Burman had got the basic knowledge of Musiqi at the same time when he started breathing in his mother Meera Deb's womb. Walid Sachin Deb Burman used to be a great Musiqar (musician) and mother also became a Nagma-Nigar (lyricist). So, like Abhimanyu of Mahabharata, Rahul Deb, after completing nine months in the womb, knew the four corners of song and music properly. I understood how to enter this 'Chakravyuh' and it was not possible to get out of it. So, there was no need to learn or understand about that. Therefore, with basic information, when Rahul Deb was born on 27 June 1939, it is said, for the first time, even if the man cried, in 'Pancham Sur' (p). So, from there the name got 'Pancham'.
Just imagine, if someone is born with the basic knowledge of his favorite subject, then how long will it take him to understand the nuances of his knowledge? Even Rahul Deb did not take much time. In just 15-16 years, he also became familiar with the nuances of knowledge related to Mazmoon. The means became its, masters like Ali Akbar Khan (Sarod-Nawaz) and Samta Prasad (Tabla-Nawaz). Also, apart from Walid Sachin Deb, big famous film-musicians like Salil Chaudhary. Rahul Deb could have stayed here if he wanted. Because he had achieved a lot ahead of running the work. Through this, according to the worldly customs, the arrangements for earning-food, ash-o-rest could be made very easily. But no, he had to stand in a separate queue.
If his father became 'S' (the first note of the music, from which the name of Sachin Deb starts), then Rahul Deb would be 'P' i.e. 'Pancham', which has its own identity. Therefore, he also chose the path of science to establish his identity. Till now, all the nuances of knowledge that he had come to know, through which he was going to be or was going to happen, he started doing all of them. Started trying and got such results from this series that till today the world just keeps thinking, Oh, what is possible! This was the reason why he was often called a 'musicologist' by his fellow musician Kersi Lord.
Musicologist, who draws science from knowledge. Look at the examples. When Pancham was learning the music of films with his father, he composed the music of a film song for the first time, 'Ae Meri Topi Palt Ke Aa'. In it, he did an experiment – Lala ji's 'playing a fat belly'. It was a different kind of voice. Resembling the sound of playing a drum. His father liked this work and he gave this song a place in the 1956 film 'Funtoos'. Similarly, as a boy, Pancham composed the tune of a song from the 1957 film 'Pyaasa', 'Sir jo tera chakraye, ya dil duba jaye'. The melody of this song caught the attention of many.
In this song, at one place, the sound of the slap of the fingers of Champi is heard. If you ever listen to Nagma, then pay attention to it. Will feel like it. It is said that the man had actually recorded this voice by thumping someone on his head. In this way, his own trials had begun while gaining experience with Walid. Sachin Deb was constantly giving such opportunities to Pancham. Although Pancham got a chance to do something on his own in 1960-61. Famous actor Mehmood had come to his house that day. He was making a film. Wanted Sachin Deb to music in it. But he refused citing masroofiyat (busyness).
Then Mahmud's eyes fell on Pancham doing tabla rituals in the house. He asked Sachin-da, 'If you are not able to give time, then should I take Pancham? If you have permission?' Sachin-da agreed. In this way, the first film adorned with Pancham's music came in 1961, 'Chhote Nawab'. Special mention can be made of one of its songs, 'Aam chum, tam chum, ta la la badam chum.' In this, which is 'ta, la, la', is not it. This is the tongue of children. Small children are singing Nagma, whose tongue is like this at this age. This means that Pancham had reached so much detail about the voices till now, only at a young age. During this he was only 22 years old.
Then as they got older, this detail got bigger. Or just say that the finer things grew up to be seen and heard by him. They started experimenting and trying on them. Enlarged people and started showing and reciting them. For example- Mehmood's film 'Bhoot Bangla' (1965). There is a song in it, 'Pyaar karta ja, dil kehta hai'. Feel the echo of the voice coming from the plaintiffs at the very beginning of it. One person's voice will be heard coming from different sides. And Pancham really did it too. It is said that in the studio he had kept four or five gulu-kars (singers) at different corners, giving the effect of echo at the required place.
Some of his trials and experiences are repeatedly mentioned. For example, in the song 'Mehbooba Mehbooba' from 'Sholay' (1975), blowing sound from an empty bottle. Like children often take out inside the house or on the street, nooks. Similarly, in the morning, elders do gargle in their homes to clear their throats. Similarly, get Gulu-Car Annette Pinto to gargle. Use it in the movie 'Satte-pe-Satta' (1982) movie. Rubbing sandpaper (sand paper) and making it a part of music (Hoga Tumse Pyaara Kaun, film- 'Zaane Ko Dikhna Hai', 1981) to make the sound of moving train chuk-chuk. Or take the rhythm (Window in front of me, film – 'Neighborhood', 1968) with the sound of the comb being rubbed on a special kind of hollow iron pipe.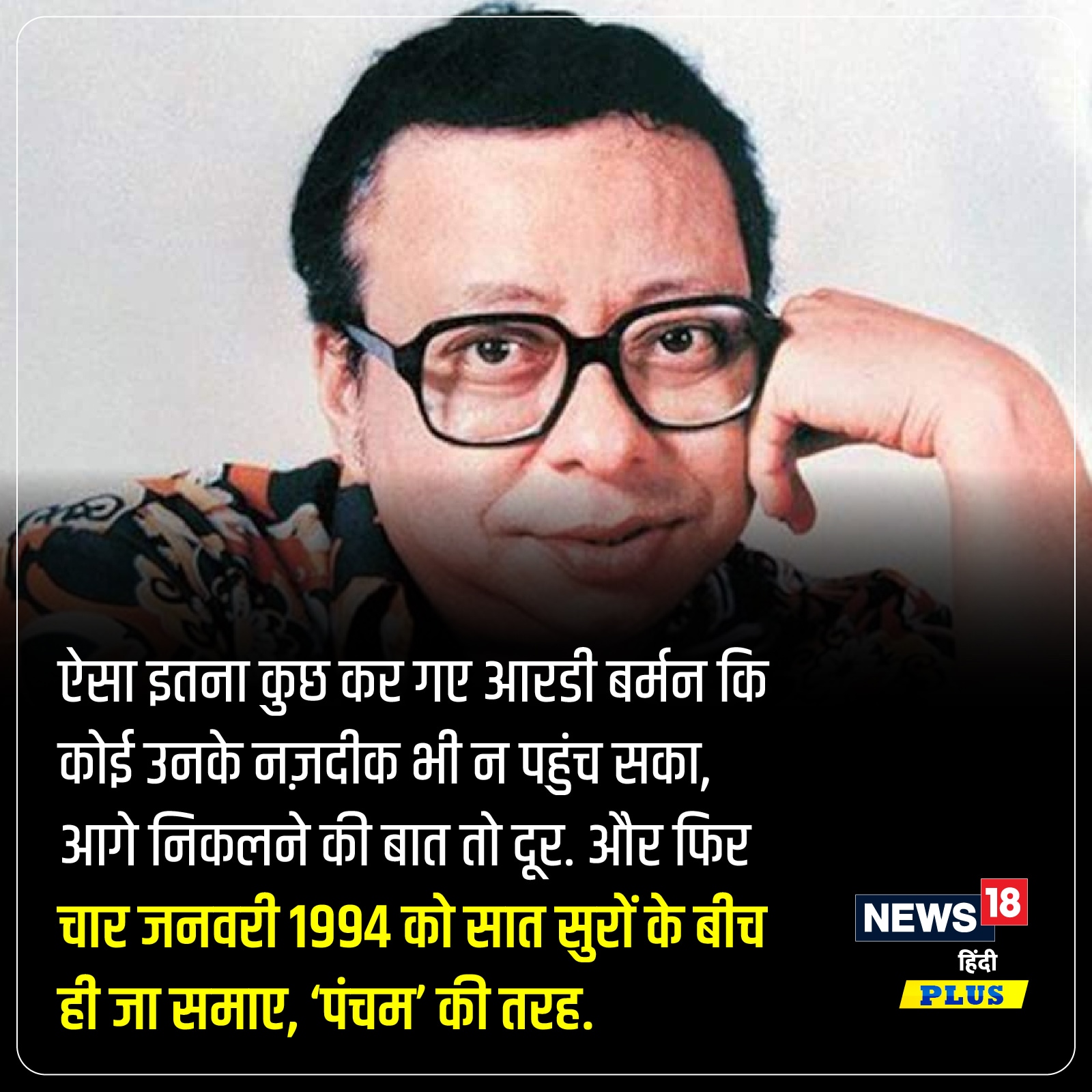 The song 'Apna Desh' from the year 1972, 'People in the world are sometimes deceived'. It becomes absolutely unique, when the sound of breath is heard using in one rhythm in between. And the song 'Yeh Naina Yaad Hai' from 1984's 'Manzil-Manzil', in which Asha Bhosle's (Pancham-da's wife) laughing gives a beautiful twist to the music. The song 'Ek meeting, ek raat ki baat, raat gayi, baat gayi' from the 1977 film 'Darling, Darling'. It is said that in this, Pancham made that voice a part of the music by getting his orchestra partner Maruthi Rao to pat on the back. Sitting at the window for hours during the rainy season and recording the sounds of drops, clouds. Then make them a part of your music. Such things happened to him too.
Mixing the sounds of western instruments like guitar, saxophone with Hindustani instruments – sitar and flute. Use of Western instruments with Indian classical music (Raina Beeti Jaye, film – 'Amar Prem', 1977). Putting the sound of birds into the music as it is (Ek Main Aur Ek Tu, film- 'Khel-Khel Mein', 1975). Even put his voice, which he did not say very melodious, to be beautifully (Piya Tu Ab To Aaja, Film – 'Caravan', 1971). RD Burman did so much that no one could even reach close to him, let alone go ahead. And then on January 4, 1994, it went between seven notes, like 'Pancham'.
Be the first to read breaking news in Hindi News18 Hindi | Today's latest news, live news updates, read most reliable Hindi news website News18 Hindi |
Tags: birth anniversary, Hindi news, News18 Hindi Originals
FIRST PUBLISHED : June 27, 2022, 19:45 IST